In the heart of Provence, these exceptional surroundings are dedicated to celebrating the authentic French art-de-vivre
Nestled between the sea and the mountains in the hillsides of La Cadière d'Azur, our domaine offers breathtaking views across the Sainte Baume hillside, the surrounding Mediaeval villages and the Mediterranean sea. We are proud to share this beautiful setting with our visitors and share our passion for our terroir and the outstanding wines it produces.
Experience first hand our vineyards and savoir-faire
Enjoy a walk through our domaines to discover our ampelography collection (collection of varietals), the secrets of the wines of Bandol, our barrel warehouse and vinification facilities, our harvest reception area and our ageing cellars. The visit ends with a tasting of our Bandol appellation wines. You will also have the opportunity to purchase our full range of wines (AOP Bandol, Côtes de Provence and Vin de Pays), as well as local produce, directly at the domaine.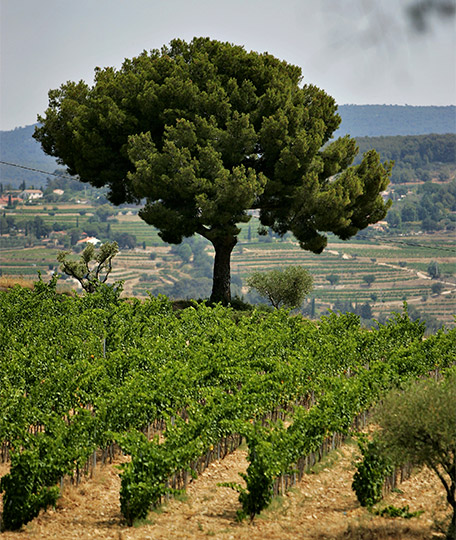 Certified high quality services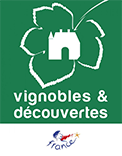 We were awarded the Vignobles & Découvertes label by Atout France for the quality of our wine tourism services. We guarantee you full access to our vineyards and provide you with high quality welcome services in order to ensure your stay runs as smoothly as possible.
GUIDED TOUR
(upon reservation)
Length of visit & tasting:
45 minutes – 1 hour
Langues : anglais, français
Several options possibles. For prices please contact us by phone +33 (0)4 94 98 58 98 or  email to claire@bunan.com or virginie@bunan.com

Une auto-balade guidée autonome, en 7 étapes à travers les vignes et les chais. Vous suivez grappe par grappes un itinéraire fléché et commenté.
GRAPPE 1 :
L'histoire de l'appellation Bandol et du Domaine
GRAPPE 2 :
L'appellation Bandol et son terroir
GRAPPE 3 :
Les vendanges et la réception du raisin
GRAPPE 4 :
Le chai de vinification
GRAPPE 5 :
La salle des foudres
GRAPPE 6 :
Le chai de vieillissement des rouges
GRAPPE 7 :
L'agriculture Biologique, un choix
En résidence pendant un mois, le couple d'artistes plasticiens anglo-irlandais getham & myles http://gethanandmyles.blogspot.com)  a imaginé des installations spécialement pour le domaine, des sculptures pérennes et land art sur le thème du passage du temps "Aevum".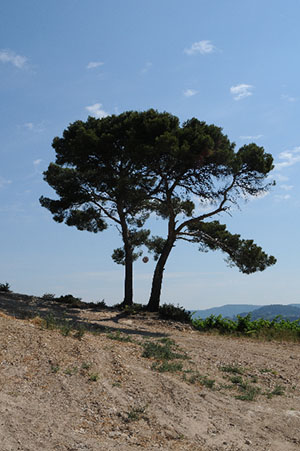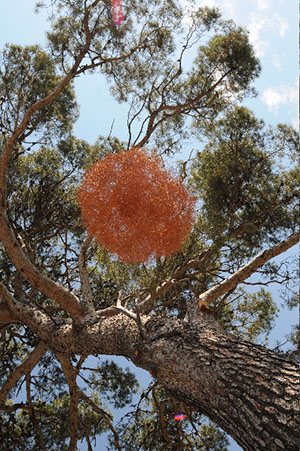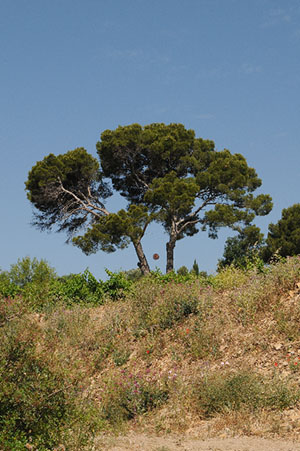 The illusion
(chêne, lierre, clématite, feuille d'or)
comme Janus le dieu Romain, ce chêne a deux visages  – l'un regarde le passé, l'autre l'avenir.
Le four en pierres sèches
every bastard has a heart / famine wall #1 (pierre sèche, bauxite, galet, feuille d'or)
La structure s'inspire de fours à cade, de strates et des famine walls construits par les paysans irlandais pendant la grande famine. Le galet a été cueilli à Bandol à la pleine lune. La pierre sèche est du calcaire – minéral formé par la mer.
Food / Famine walls
(pierre sèche, terre) 
"C'est la terre et la pierre qui nourrissent les vignes. C'est leur nourriture." Philippe Bunan.
Le fût noir 
midi / the ship that never sailed (tonneau, goudron, feuilles d'or, fil de cuivre) 
Basé sur le cadran solaire d'Aquitaine, le foudre révèle le mouvement du soleil. Les ellipses dorées tracent le trajet du soleil de midi à 18h pendant le solstice.
Le Midi est ainsi nommé parce qu'à midi en France la position du soleil indique le sud.  NB. Par grande chaleur le goudron peut-être collant.
Les deux pins
the illusion (pins, fil de cuivre) 
Un vieux couple d 'arbres, de loin les deux semblent unis; de près l'un est écrasé par l'autre.
Le menhir
amer (pierre taillée, feuille d'or, charbon, terre) 
Le soleil sur la pierre dressée est orienté pile au nord. Un petit couloir dirige la pluie au milieu de sa face. Dans le temps cette eau creusera une ligne à travers le cercle d'or.
Le pin
godspot (pin, fil de cuivre, pierre sèche)
En anglais god spot signifie le point ou le soleil, après avoir transpercé les nuages, touche le sol. Posez vous sur le god spot et observez.
Installation de pierres sèches
devant la collection de cépages à l'entrée de la cave : fin #2 (lames de calcaire, pierre sèche)
The beginning and the end.