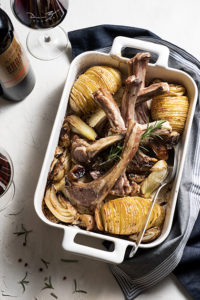 Copyright photo : Laura Jonneskindt 
Ingrédients
| | |
| --- | --- |
| Cutlets | Between 4 and 8 depending on their size |
| Potatoes | 4 |
| Fennel | 1 or 2 depending on their size |
| Grelot onions | A handful |
| Garlic | 2 cloves |
| Salt & pepper | |
| Olive oil | |
| Butter | |
Recipe

Season the lamb cutlets with the pepper, rosemary and a drizzle of olive oil and set aside whilst you prepare the vegetables. They can also be left to marinate overnight.
Preheat the oven to 200°C
Rinse and dry the potatoes.
Slice thinly downwards, with two wooden chopsticks placed eitherside of the potato in order to prevent you from cutting them all the waythrough, therefore creating a fan shape.
Brush the potatoes with butter.
Cut the fennel into quarters.
Peel the grelot onions.
Place the vegetables in an overproof dish along with the unpeeled garlic cloves.
Season with the rosemary, salt and pepper and drizzle with olive oil.
Baste the meat regularly with its juices during the cooking time.
After 25 minutes add the lamb cutlets and cook for a further 15 to 20 minutes.
The cutlets should be slightly golden… and it'sready! Bon appétit!
Food and wine pairing  :