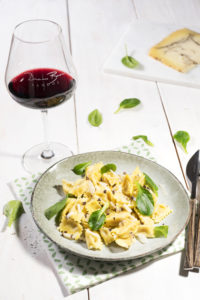 Copyright photo : Laura Jonneskindt 
Ingredients
Ravioli pasta
170 g of flour
2 egg yolks
30 ml of olive oil
50 ml of water
Filling
250 g of ricotta
30 g of truffle
1 tablespoon of truffle oil
salt, pepper
Parmesan cream
30 cl of single cream
250 g of grated parmesan
1 table spoon of truffle oil
salt, pepper
sel, poivre
Recipe
STEP 1
Place the flour in a mixing bowl. Add the egg yolks, olive oil and water. Knead together for a few minutes until the mixture becomes a smooth ball of dough. Add a little extra flour or water if necessary. Wrap the pasta dough in clingfilm and place in the fridge for 30 minutes.
STEP 2
Combine the ricotta and grated truffle in a mixing bowl. Add the olive oil and salt and pepper to taste. Mix well. Roll the pasta dough into a thin sheet on a lightly floured worktop. Cut into circles using a cookie cutter. Place a teaspoon of filling in the centre of each circle. Fold each ravioli in half and press the edges firmly together to close. Bring a pan of salted water to the boil. Cook the ravioli in the boiling water for 3 to 4 minutes. Drain and serve piping hot.
STEP 3
Heat the single cream in a saucepan on a low heat. When the cream starts to simmer, add the parmesan and truffle oil. Mix well. When the parmesan sauce is smooth, remove the pan from the heat, set aside and keep warm.
STEP 4
Divide the truffle ravioli between the plates. Pour over the parmesan sauce and garnish with parmesan shavings.
Food and wine pairing :